One of the favorite features in our store is the deli, where customers' orders are freshly sliced while they wait. Our Troyer's brand meat and cheeses are made by a family-owned business in Ohio. Theirs is a brand rich in tradition and rich in taste. The quality of their products is superb, and their prices are nothing to scoff at, either.
Troyer's offers award-winning, blue ribbon cheeses. These cheeses are made in small batches and aged to perfection. None of them contain trans fat, and all are naturally low in carbohydrates, as well. They only sell A grade cheeses, which ensures customers the same great taste every time.
Troyer's compliments their cheeses with a wide selection of deli meats. As a family, we have been impressed with the good taste and quality of these meats, and many of our customers have shared positive feedback as well. A customer favorite is off the bone ham, both the Honey Cured and Smoked varieties. As any good meat cutter knows, a ham has better flavor if it has a bone in it. But because Troyer's has a unique process for making these off the bone hams, the flavor of the bone-in ham is there, even though there is no bone. Our customers also like the Tavern Smoked and Honey Roasted turkey breasts, which are whole muscle products, and contain no MSG. Another favorite, the roast beef, has no isolated soy protein and is only 10% water. All Troyer's meats are gluten free. You can taste the difference in these products!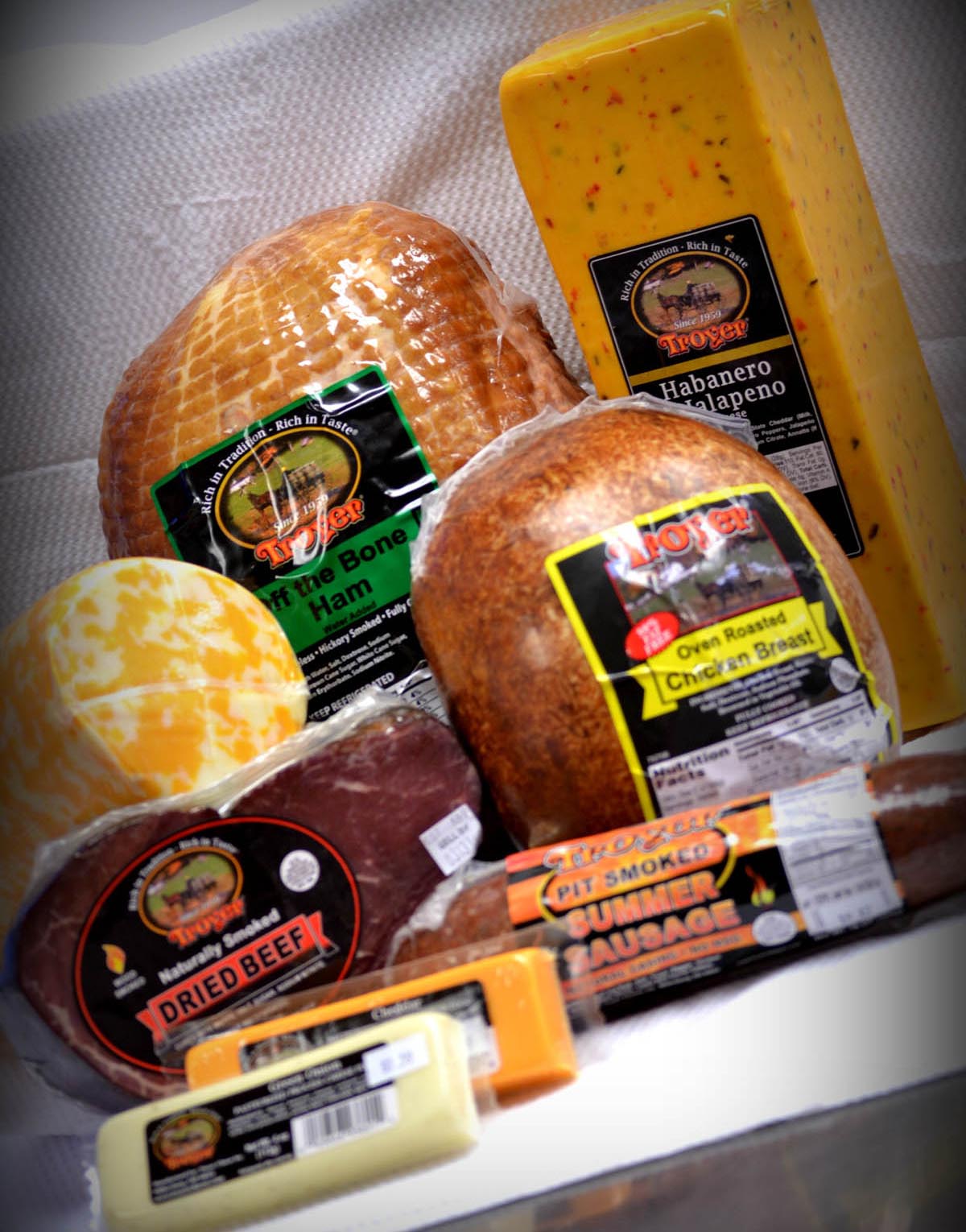 Cheese
American (white)
American (yellow)
Farmers
Marble
Colby
Muenster
Cheddar (mild)
Cheddar (Sharp)
Cheddar (Smoked)
Provolone
Swiss
Lacey Baby Swiss
Pepper Jack
Lightning Jack
Habanero Jalapeno
Green Onion
smoked gouda
Swiss and Rye
bacon cheese
butter cheese
mozzarella
Meat
Bologna Deluxe
Lebanon Bologna
Sweet Lebanon Bologna
Hard Salami
Pickle Loaf
Chicken Breast (oven roasted)
Ham off the Bone (smoked)
Ham off the Bone (honey cured)
Turkey Breast (honey roasted)
Turkey Breast (tavern smoked)
Roast Beef
Dried Beef
BBQ Pulled Pork
Virginia ham
brown sugar ham
peppered turkey
We make sandwiches to go daily.
Homemade Salads
Ham Salad
Potato Salad
Chicken Salad
Macaroni Salad
Sandwiches
Thousand-Miler…$7.00


A combo of salami, roast beef, turkey and ham with swiss cheese.
*Thousand-miler referred to the shirts once worn by railroad workers. These shirts were expected to last 1000 miles between washings. A day's work was usually around 100 miles, so…you do the math.
Lizard Scorcher…$7.00


Roast beef and swiss topped with a nice warm spread of hot pepper jelly.
*Lizard scorcher was the nickname for the railroad dining car chef. How complimentary.
Hay Burner…$7.00


Roast beef and cheddar topped with horseradish.
*The hand oil lanterns used in the old days were called hay burners.
Glory Hunter…$7.00


Oven-roasted chicken breast paired with sweet lebanon and topped with muenster cheese.
*A glory hunter was a reckless, fast-running engineer.
Pig Mauler…$6.00


Ham and farmer's cheese, with a dash of sweet mustard
*Locomotive engineers were called pig maulers. Pork, anyone?
Ball Of Fire…$6.00


Ham and turkey with habanero jalapeno cheese.
*A fast run done by train was referred to as a ball of fire.
Homesteader…$6.00


Smoked turkey breast with marble cheese.
*An employee who stays with one railroad.
Laplander…$6.00


Lebanon bologna with swiss cheese.
*A passenger jostled into someone else's lap in crowded car.
Double Header…$6.00


Chicken and turkey with bacon cheese.
*A double header was train hauled by two engines.
Boomer…$5.00


Deluxe bologna with american cheese, on white bread.
*A drifter who went from one rail road job to another.
Peanut Roaster…$5.00


Peanut butter spread with strawberry jelly, on white bread.
*A peanut roaster was any small steam engine.
Caboose…$5.00


Ham and american cheese, on white bread.
Hot Sandwiches/Pulled Pork…$7.00
Ham or Chicken Salad Sandwiches…$6.00
Toppings


Lettuce, tomato, onion, dill pickles, sweet flame pickles, mayo, mustard – regular, sweet, spicy.
Breads


White, wheat or wrap.
Soup


Soup will be back in the fall.